The WAY2PAY 'Products' module can be used to create, amend and delete products. To amend a product, please use the following steps:
Once signed into the WAY2PAY Back Office, press the 'System Maintenance' navigation button and then press 'Products'. If this option is not visible, please speak to the manager or team that manage the WAY2PAY system for your organisation.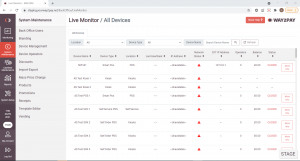 Within the 'Products' screen, enter the name of the product using the search function and press 'Search' to return the results. From here,
Select the item you wish to amend from the list.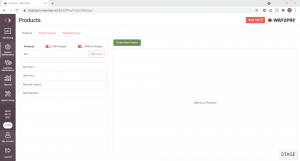 Once you have selected your item, all item information will display in the main section of the screen. Press 'Edit Product' to amend the product.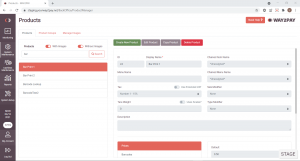 From here, you can then amend the following product information:
| Field | Description | Example |
| --- | --- | --- |
| Display Name | The product name displayed on a POS or Self Checkout device (max 15 character limit) | |
| Menu Name | The product name displayed on a Self Order Kiosk device (max 30 character limit) | |
| Tax | The product TAX or VAT code to be displayed against the item for receipts and WAY2PAY reports | |
| Use Extended VAT | If your organisation utilises more than 4 vat codes then extended vat codes must be turned on | |
| Tare Weight/Use Scales | The tare weight of the product | |
| Use Scales? | If the product needs to be weight on scales at the POS then this setting must be turned on | |
| Description | The product description displayed on a Self Order Kiosk device | |
| Chained Item Name | In the scenario where an item should automatically be added to an order when the product has been added, this should be set here | |
| Chained Menu Name | In the scenario where a sub template should display after the product has been selected on the device, the sub template should be selected here | |
| Size Modifier | In the scenario where a size modifier button is used on the POS template prior to selecting a product to confirm the product size, the size of the product should be specified here. For example, for an alcoholic drink scenario, half a pint and pint could be a size options. | |
| Type Modifier | In the scenario where a type modifier button is used on a POS template, the type of product should be specified here. For example, for an alcoholic drink scenario, shandy could be a type modifier. | |
| Prices | Products can have multiple price bands that can be used for different devices or cashless departments and are specified here. All prices should be in the format of 0.00 | |
| Barcodes | Products can have three barcodes and a PLU number (WAY2PAY has the ability to an unlimited amount of barcodes for products but this is not handled within the products module) | |
| Menu Groups | Products can be assigned for three menu groups | |
| Reporting Groups | Products can be assigned to three reporting groups which can be used to report on within the Report Generator Sales Item reports | |
| Printer Routes | If kitchen printing is used, items can be setup to print to two different printers (usually the kitchen area preparing the food and the Passover) | |
| Settings | Any product settings that need to be enabled can be enabled here | |
| Allergens | Any allergens the product has can be setup here | |
| Dietary Information | Dietary information shown on the Self Order Kiosk device is set here | |
| Image | The image to be displayed on the Self Order Kiosk device is set here. | |