Introduction
The 'Overdrafts' module found within the 'Cashless Maintenance' tab is generally used by System Users to create, manage, and monitor account holders' overdrafts within their Way2Pay system.
The Account Manager module allows System Users to do the following.
Search – Look up a department and view their overdraft details.
Create Overdraft Facility – Assign departments the ability to spend over the balance that they have available on their Way2 Pay account.
Set Overdraft Limits – Define the amount that account holders can overspend their balance by.
Enable and Disable – Manage facility to use overdraft by department by enabling and disabling accounts.
View Overdraft Balances – See immediately how much each department is currently overdrawn by.
One Shot and Full Overdrafts – Allow account holders to go overdrawn on their balance once before disabling ability to spend or allow a full overdraft function up to a set amount.
Limit Liability of Cost – Set the amount that department account users can go overdrawn by.
Overdrafts Module Features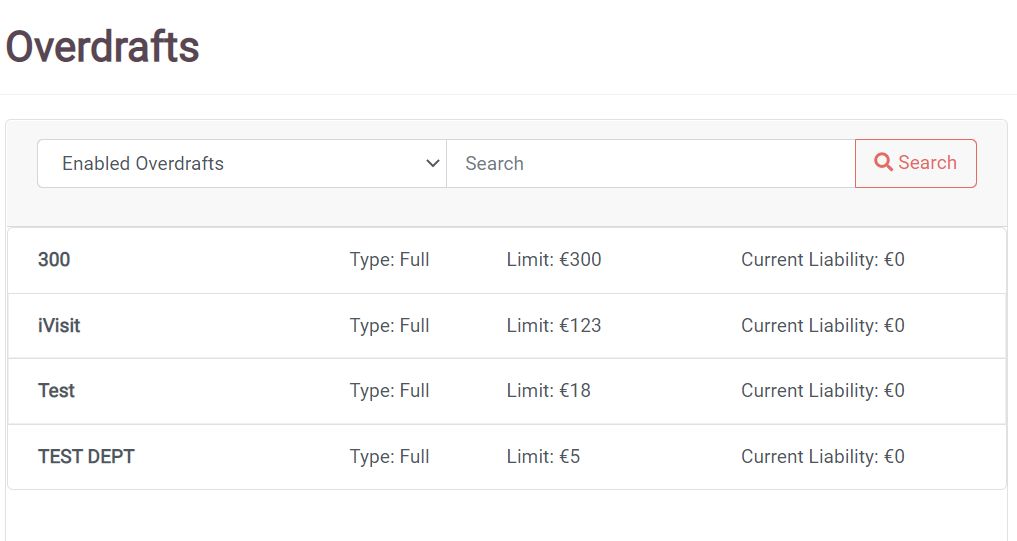 View Department Overdraft Facilities.
Press the 'Overdrafts' key in the 'Cashless Maintenance' tab to open the overdrafts module. A list of all departments and their 'Overdraft Type', 'Limit' and 'Current Liability' will be shown.
Select a department that you wish to view.
Departments overdraft details will open in new window.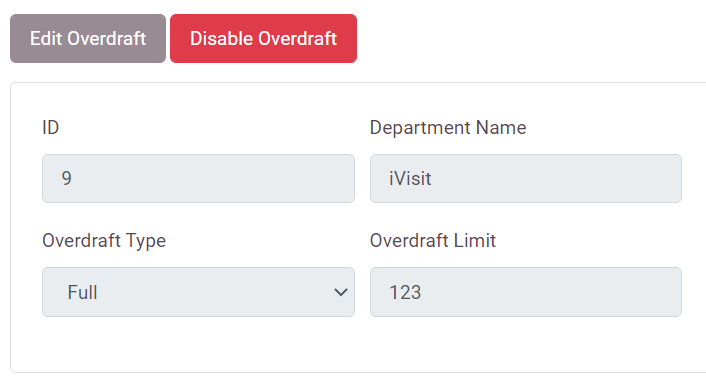 Overdraft Reporting Window Explained
| | |
| --- | --- |
| Limit | View and Set the ''Allowed Overspend amount here'. |
| Full Overdraft | Enable Department Users to continue to spend on account up to the agreed overdraft limit. |
| One-Shot Overdraft | Enable Departments Users to exceed their account balance once before being required to 'top up'. |
| Enable/Disable Overdraft | Turn on or off the facility to overspend on account balances for department. |
Enable and Disable Overdraft Facility.
It is possible to turn on and off the ability for department account holders to spend over their account balances by taking one of the following steps.
Click "Disable Overdraft" or "enable Overdraft"
The function for the selected department to be able to use the overdraft will now be disabled.
Amend Overdraft Limit
Select required department from the search bar or from the list of departments on left of module.
Amend the 'Overdraft Limit'.
Press 'Save'.